Carving a Jade Triple Mobius Ribbon Tutorial on DVD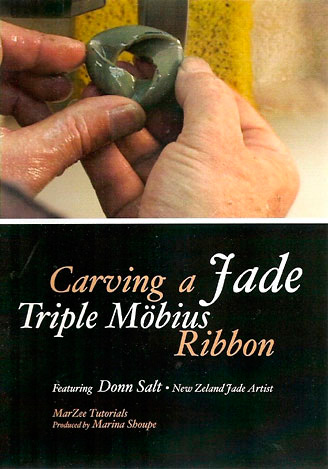 Veteran New Zealand Jade Artist Donn Salt takes us on quite the carving adventure with this project DVD.

In this DVD you'll:

• Learn the best stone orientation while working with Jade
• Explore Nephrite Jade grain direction for strength
• Learn how-to set up use and make the best tools for this project
• See how to carve a Jade Mobius Ribbon, step by step
• Learn innovative techniques for finishing a Jade carving

$25.00 Including domestic US shipping
Running time: 1:23

Whether you follow along or just want to learn what Donn knows about this exquisite carving medium, this DVD provides a wealth of information,for the novice and seasoned carver. Video taped in a workshop setting, this comprehensive DVD runs nearly 1-1/2 hours.
Donn starts by speaking on the general characteristics of jade, nephrite and jadeite. That is, what to expect, what to look for in selecting a stone for this or any project. The shop set-up, all tools needed for this project, with plenty of tips and Donn's jade carving philosophy are touched upon in chapter 2.
A most important step is the design of your carving. Using the Golden Mean as an ancient and still quite current and viable foundation of balance in design, Donn takes us through, step by step the layout of the Triple Mobius Ribbon.
The 4th chapter covers the Cutting, Grinding, Sanding and Polishing steps of working with jade. This in-depth section explores when it is best to use silicone carbide and when are diamonds the best choice to get the results you need. Followed step-by-step, you will find success and wonder working with this ancient and rich stone.